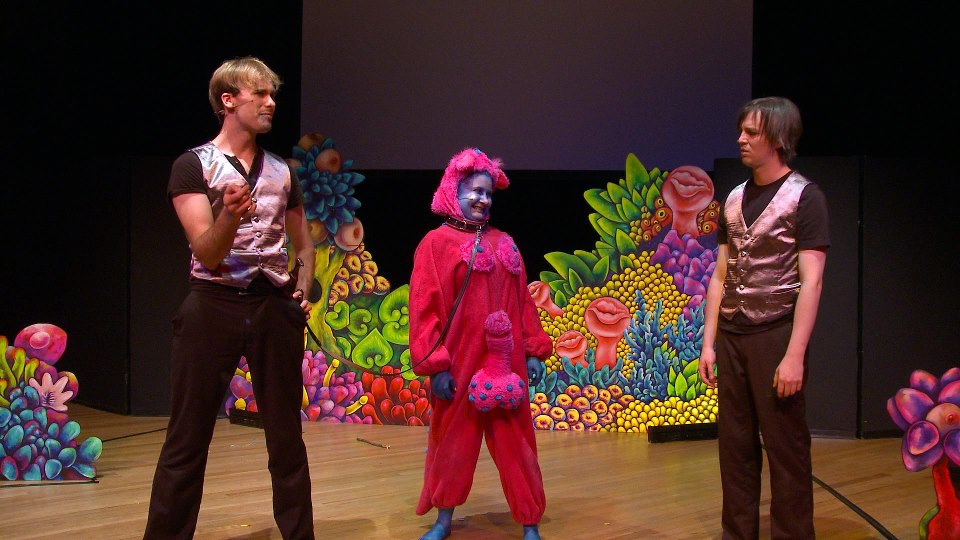 Awarded 'Highly Commended in Comedy' – 2012 Melbourne Fringe
Nominated 'Golden Gibbo Award' – 2013 Melbourne International Comedy Festival
Slutmonster and Friends was a live musical comedy performed by Birthday Loyalty Club at the 2012 Melbourne Fringe Festival, and was part of the 2013 Melbourne International Comedy Festival through Darebin Arts Speakeasy. We're currently busy working on our next project, so there are no upcoming performances planned.
Deep within a psychotically colourful, hypersexual Eden of carnal painterly forms, the furry breasted Slutmonster and its vacuous puppet friends frolic. However, the natural order of things is soon disrupted by the encroaching humans; a psychotic pervert and his long-suffering neurotic brother, both unknowingly stumbling deeper into the wild. The inevitable clash between worlds is unapologetically depraved…but artfully so.
This is a stupidly violent, magically perverse play operating under the mistaken belief that it's a light-hearted musical comedy romp. There'll be snappy musical numbers, dick jokes and a jaunty hat.
If that doesn't make you climax, you're picturing it wrong.
What people said about Slutmonster and Friends
The Age – ★ ★ ★ ★
Blending songs, animation, puppetry and performance, this playfully perverse pantomime for grown-ups is both an intelligent commentary on colonial attitudes towards race and sexuality, and a provocative, sex-positive comedy. Crude, crass and very funny, Slutmonster and Friends is highly recommended.
Slutmonster is gross-out porn of the highest quality, and dammit if you don't just swallow your gag reflex and wade through this festering delight of a show.
When Slutmonster and Friends ends and the house lights come up, you truly feel like you have awoken from a dream. As I scanned the audience's faces (a full house who had laughed and clapped and shrieked and gasped through the entire show) they too seemed to have that what-the-hell-did-I-just-see look. But not in a bad way at all. Kind of like the dazed look I assume one might get after you realise you've just had the best sex of your life… with a Teletubby.
I have never seen anything quite like Slutmonster and Friends before and I think it will be a long time before I do again. It's a great show when the worst thing is that it has to end. I overheard one audience member say this at the end of the show and I wholeheartedly agree with their statement: "Genius. Just genius."
This show is as depraved and wrong as anything can be, but made with an intelligence that leaves it's audiences making sounds that they usually keep hidden.
Arts Hub, "Ten Comedians to Keep Your Eyes On"
This so, so wrong and so, so funny Brothers Grimm porno musical with puppets, animation and a remarkably refined aesthetic was Highly Commended in the 2012 Melbourne Fringe Awards, and rightly so.
It certainly won't appeal to the prudish but if you like your humour on the perverted side, you'll be gagging for more.
If you ever get a chance to see Slutmonster see it. It has some of the most original comedic ideas I've seen in years
Slutmonster and Friends is the most depraved, disgusting, captivating, hot, disturbing, hilarious fluro madness I've seen on a stage. Which is saying something, considering what I do.
A Mighty Boosh cum Tim and Eric satire of sexual conquests and gender relations; and that's no mean feat. Yes, dick jokes, toilet humour and fine, fine art.
Trailers